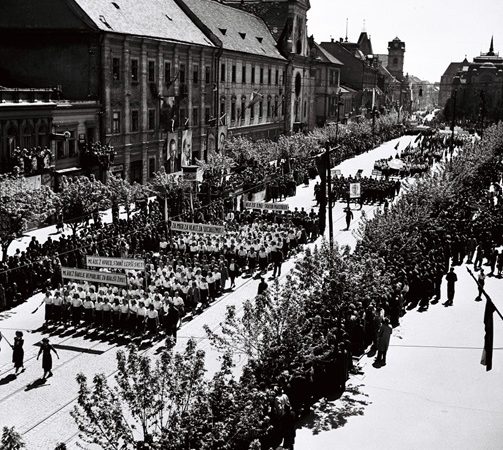 Lesson Plan: Ideology and Society, Ideology in the Body of Society
August 6, 2018

Time Frame: 45 minutes

Topic: communist ideology, state ideology and its expressions in society

Competences :
Students will be able to understand what ideology means and how it can affect everyday life; they will then be able to define and list the main features of communist ideology, which represented the main political doctrine in the countries of Eastern bloc until the 1990s
Students will be able to identify and name certain representations of state power and ways in which it expressed itself and appealed to people/citizens
Learning Aims:
Students will be able to:
Characterize the concept of ideology
Identify the signs of ideology
Identify the ways state power can control the public space
Determine the relationship between the public space and ideology
Develop critical objectives by analyzing Article 4 of the 1960's Czechoslovak constitution
Structure of the Lesson:
I. Introductory activity:
Students will be divided into groups. Each group will get one short text (a definition of ideology). Students will be instructed to read the texts and figure out what the texts are defining. Along with the definitions, they will be provided with three labels: ideology, political system and economic theory, which will help them to navigate their thinking and let them match the definitions to the labels.
Definition Examples of Ideology :
1. A systemic and wholesale political doctrine that serves as the reason for political acts
2. A field of study focused on ideas to enlighten and to improve public thinking
3. The knowledge base, ideas, theories, etc., in which a social group (class) expresses, acknowledges and justifies its economic and social statuses and interests
4. An elaborated knowledge base, attitudes, values and ideas with apologetic or offensive functions, based on the interests of a certain political, commercial, view-based, or otherwise connected groups. This is expressed in political and social praxis, e.g. in the form of philosophy, law, ethics, and in general attempts to formulate a general definition of society and individual through its subjectivity
Questions:
What do you think that these sentences define?
Expected group discussion.
After finding out that it is ideology, there needs to be a short reflection about how students comprehended the definition examples.
(The teacher should be aware of the fact that he/she will have to explicitly explain what ideology is as such, once again. The important thing is that students have the same, proper understanding of what the category of ideology represents)
II. Following activity:
Students are still divided into groups. Each group will get Article 4 of the 1960s Czechoslovak constitution, which establishes the main role of the communist ideology over society and will be instructed to read it and to try to name the ideology that is represented in this text. The teacher will provide four cards with the following ideologies: anarchism, communism, democracy, and fascism and let them choose which one the Article 4 text represents.
Questions:
Can you name the regime in which this ideology has been applied?
Can you list and name the basic features of the communist ideology?
Do you think that this ideology is also connected to Slovakia? Why or why not?
Do you consider this ideology to be democratic or undemocratic? Why?
III. Activities with sources:
Students remain in their groups. Each group will get the same set of three visual sources. The photographs/pictures will be analyzed sequentially, one by one. Students will receive a specific set of questions to be answered for each photograph/picture. They will be instructed to start with a description of what they see in the photograph and then go beyond and more in depth.
The first visual sources are two maps, one with a street named after Lenin and a present map of that area.
Questions related to maps:
Do you see any changes on the maps?
Why do you think streets might be renamed, and on what occasions?
The second visual source is a photograph showing a statue of Stalin:
Students will now be taken out of their groups, and each one of them will get (or will be presented with) a photograph of statue of Stalin in a square.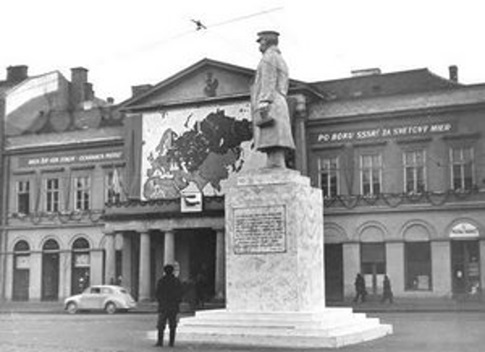 Questions related to second picture:
What else can you see in the photograph besides Stalin?
Why do you think is there a map on the front of the building?
Who do you think pushed to build and place a statue (or statues) like this?
Third photo shows parade held on May the 1st.
Students will be divided into groups again and presented with a photograph of a 1st of May parade.
Related questions:
What do you think is happening in this photograph?
Can you describe the area where this event is going on?
Can you guess which important date is being celebrated in the photograph?
Do you think that the area might be used for the same purposes even today?
IV. Conclusion:
Based on the activities with the photographs, the teacher will start a discussion around the following question:
How did ideologies and political systems influence the public spaces depicted in the photographs that you've analysed?
How do you think these public spaces influenced everyday life?
How have these public spaces been used during national holidays?
Do you think that public space and ideology are connected? If yes, explain in which ways they are connected. If not, explain your point of view.
Target Groups (based on state Slovak Educational Programme Frame (RVP)): 9th grade of elementary schools and 3rd and 4th grades of high schools
Educational Area: Man and Society
Methods used:
First activity: group work (develop communication skills and cooperation)
Second and third activities: work with textual and visual sources (develop analytical skills and inquiry based learning)
Flow of the Lesson plan: a brief review
Start with short texts that characterize what ideology is
After defining what ideology is, move on to the teacher describing communist ideology and its basic elements and also listing countries in Europe that were officially communist
With this theoretical background, work with a short text – Article 4 of the 1960s constitution, to ground the basic features of communism
Then, work with three photographs depicting three different fragments of public space influenced by the official state ideology to help students find and describe the relationship between state ideology, public space, and the use of public space
By the end, students are supposed to know the basic features of ideology, especially the communist ideology, in which countries this was the leading ideology, and how this ideology has been presented in the public space by the ruling elites.